In the center of Amsterdam, houseboat Ms. Luctor, on a breathtaking location, a stylish and romantic houseboat with all modern comforts, fantastic breakfast, bikes and a canadian canoe
Great reviews
You might want to check us on
tripadvisor,
airbnb
or any other platform, and you will find that all of our guests are full of praise, and are sorry to leave!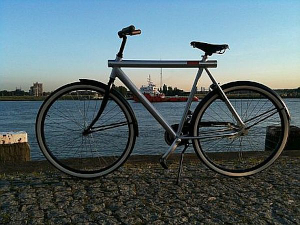 CO2 emission reduction
If you decide to come by boat or train we give you 5% reduction!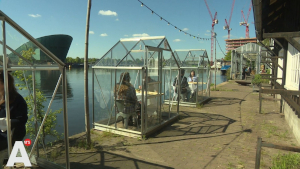 Restaurants are adapting quickly to the new situation!

Own entrance
A romantic houseboat with three rooms, and own entrance into the wheel cabin. From there you enter the deckhouse, coffee, tea, and the shower and toilet. Three steps down into the captain hut: an intimate but surprisingly spacious bedroom with a double bed. If sunny we serve your terrific breakfast on the large jetty. We run our ship in a environmental responsable way with solar energy, organic products, etc.
Corona
We are cleaning as usual, with desinfectant and very thorough. The lay out of the ship makes distancing easy. Contact-free check-in, if you like, is possible! And as our most famous philosopher (Johan Cruijff) once said: "Every disadvantage has its advantage." In this case a less hectic Amsterdam, to wonder around and experience the city as it used to be, quite a while ago. (We all enjoy the sudden singing of the birds, less cars, etc etc!)



Prices

(Minimum stay of 2 nights)
16 March 2020 - 15 october 2020 : night € 140.
week € 840.

16 october 2020 15 march 2021 : night € 130.
week € 780.

16 march 2021 - 15 october 2021 : night € 140.
week € 840.

(not always possible) one night € 150.)

Prices incl. 10% tourist tax, wifi, breakfast, bikes and canadian canoe.
50% payment in advance, and 50% cash on arrival.
cancellation policy

Adress: Westerdok 103 1013AZ Amsterdam Netherlands
+31622689506 info@boatbedandbreakfast.nl
Notice from Dutch governement.
Borders are open; tourists from Schengen countries and essential travel only, with the possibility of non-essential travel permitted after 15 June. Some flights are operating with the UK – airlines require travellers (including those transiting) to complete a health declaration. Shops and some hotels are open. Face masks are mandatory on public transport from 1 June. Outdoor restaurants and bars are due to open from 1 June, as are theatres, music venues, museums and cinemas (with social distancing). Campsites and holiday parks are open, and their communal facilities are due to open on 1 July. Events, concerts and festivals with more than 100 people may be allowed after 1 September.

Check our availabilty

<